Load Cells RTN Schenck Process | Loadcell cân bồn RTN Schenck Process
Hotline:
0917 410 069 - 0972 182 449
Email:
sale17@tmpvietnam.com
Nhà cung cấp:
Nhà cung cấp Schenck Process tại Việt Nam
Loadcell cân Silo
Our classic load cell: Very compact also for high capacities, extremely reliable as well as durable and very accurate in measuring results. The original only from Schenck Process.
Use in many different applications such as filling of valuable bulk materials in the case of hopper scales or precision as in vehicle scales
Rated capacity: 1 t – 470 t. Accuracy classification: +/- 0.05% (Non-legal-for-trade) to C5/C4 Mi-7.5
(legal-for-trade, combined error = 0,01 %)
Many different special versions are also available such as: different cable lengths; special IP protection; protection against chemical substances; suitable for hazardous areas; high temperature or connecting thread holes.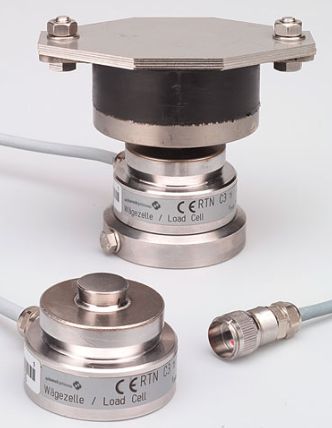 Variants

Accuracy class

0.05

C3

C5 / C4 Mi 7.5

RTN 1 t

D726173.04

D726173.02

D726173.10

RTN 2.2 t

D726174.04

D726174.02

D726174.10

RTN 4.7 t

D726175.04

D726175.02

D726175.10

RTN 10 t

D726176.04

D726176.02

D726176.10

RTN 15 t

D726177.04

D726177.02

D726177.10

RTN 22 t

D724781.04

D724781.02

D724781.10

RTN 33 t

D724754.04

D724754.02

D724754.10

RTN 47 t

D724782.04

D724782.02

D724782.10

RTN 68 t

D724783.04

D724783.02

D724783.10

RTN 100 t

D724784.04

D724784.02

D724784.10

RTN 150 t

D726178.04

D726178.02

RTN 220 t

D726179.04

D726179.02

RTN 330 t

D726180.04

D726180.02

RTN 470 t

D726181.04

D726181.02
Những mode đã từng cung cấp tại thị trường Việt Nam
Specifications

Model: BV-D2041GB
(VBB 0.05t C3 nominal load 50kg According to data sheet BV-D2041GB)
VBBC3 0,05t

MEMORY MODULE VSM 20107 V044393.B05

PROFIBUS CARD VPB 20100, V034917.B01

TERMINAL BOX: FAK 0080-E22, FAK 0080-E22
TERMINAL BOX: FAK 0080-2GD new 2011

CONTROL UNIT VLB 20120 -E22, V035374.B01

MEMORY MODULE VSM 20102 V044393.B03, OK11N2

TERMINAL BOX: FAK 0080-E22, FAK 0080-E22

LOAD CELL
VBBC3-0,1-2MV/V

LOAD CELL – 3360-117-CAP 300KGF
TYPE : PSW-17237

Model: HM30

Intecont plus for measuring systems
Model: VPB020V
Variant: VEG20612

Weighing Systems
Model: VLG 20100 F217920.02

Modul I/O
Model: VEA 20100 F217904.02

V053954.B01
Cable box VKK 28014

Load Cell
D724784.02
RTN 100t C3

Load Cell with connecting cable 15m
D724754.02
RTN 33t C3

VC 1100 C11

DWB 100T

V 053 954.B01

VEG 20450 terminal

VME 21046/PT 100

veg20610/vdb20600

VC-1100-C01

SF4-20 kN-C3

Load Cell D724784.02
V053954.B01
Cable box VKK 28014

RTN 100t C3
D724754.02

Load Cell with connecting cable 15m
RTN 33t C3

VC 1100 C11

DWB 100T

V 053 954.B01

VEG 20450 terminal

VME 21046/PT 100

veg20610/vdb20600

VC-1100-C01

SF4-20 kN-C3

VKK 28014

VEG20700

cv-110

FGA 20 RSLE

TYPE: DEM1845 S9& No FDS 7253

PWS-17238

RTN 0,05/220T

SF4/C3 20kN

CV-110

VS-068

Model: BV-D2041GB
VBBC3 0,05t

MEMORY MODULE VSM 20107 V044393.B05

PROFIBUS CARD VPB 20100, V034917.B01

TERMINAL BOX: FAK 0080-E22, FAK 0080-E22

TERMINAL BOX: FAK 0080-2GD new 2011

CONTROL UNIT VLB 20120 -E22, V035374.B01

MEMORY MODULE VSM 20102 V044393.B03, OK11N2

TERMINAL BOX: FAK 0080-E22, FAK 0080-E22

LOAD CELL
VBBC3-0,1-2MV/V

LOAD CELL – 3360-117-CAP 300KGF
TYPE : PSW-17237

Model: HM30

LOAD CELL – 3360-117-CAP 300KGF
TYPE : PWS-17237

Intecont plus for measuring systems
Model: VPB020V
Variant: VEG20612

Weighing Systems
Model: VLG 20100 F217920.02

Modul I/O

Model: VEA 20100 F217904.02

V053954.B01
Cable box VKK 28014

D724784.02
Load Cell
RTN 100t C3

D724754.02

RTN 33t C3

Load Cell with connecting cable 15m

VC 1100 C11

DWB 100T

V 053 954.B01

VEG 20450 terminal

VME 21046/PT 100

veg20610/vdb20600

VC-1100-C01

SF4-20 kN-C3

VKK 28014

VEG20700

cv-110

FGA 20 RSLE

TYPE: DEM1845 S9& No FDS 7253

PWS-17238

RTN 0,05/220T

SF4/C3 20kN

CV-110

VS-068

D724783.02
Load cell RTN 68t C3
according to data sheet BV-D2019GB

V025359.B02
INTECONT PLUS VEG 20610 VDM 20600

Load Cell RTN 4,7t C3

V082002.B02

INTECONT TERSUS VEG 20650 VBW 20650,

for beltweigher

with Option: MODBUS interface

V005641.B02

Handbookset for INTECONT VEG consistsof :

1x BV-H2464 user manual

1x BV-M2225 sample electrical drawings

RTN 220t 0.05, 2.85mV/V

RTN1000t 0.05, 2.85mV/V

Correct: RTN100t 0.05, 2.85mV/V

RTN68t 0.05, 2.85mV/V

D726175.53

Load cell RTN 4,7t 005; II3G; II3D for

ATEX Zone 2 and 22,

design according to data sheet BVD2019

GB

Type: RTN 4,7t 0,05

Nr: 002833F6; II3D;

IP68 Ta≤70 C;

Umax= 12V; II3G Eex nAII T6 D-64273

F217765.01 VLB 20120

Incl. cable VSC 20106

D724782.04

Load cell RTN 47t 0,05%

Disocont field enclosure

Type VFG 20100-3D, mounted inside:

-System unit VSE 20100 with programm VND 20150;

-Memory module VSM 20107

- System cable VSC 20108

Disocont field enclosure

Type VFG 20100-3D, mounted inside:

-I/O Unit VEA 20100

Load cell RTN 47t 0,05%

According to data sheet BV -D2019 GB

Load cell RTN 33t C3

According to data sheet BV -D2019 GB

D739011.03

Disomat B plus power supply and I/O board VNT 400V

D739006.10

Disomat B plus CPU board 400V

The CPU will be supplied flashed with the updated program version. When exchange the device is immediately ready for use. Only the sustomer specific parameters must be entered. This can be done without auxiliary means via the keyboard

D739001.03

Disomat B plus measuring module VME 400V

V053954.B01

The repuested DKK69 has been replaced with a new 100% function equal unit, the new VKK Cable junction box VKK 28014, aluminium,4-channel junction box

Disocont control unit in field housing type VLB20120, for ATEX zone 22

Cheaper price

Intelligent Infrared Thermometer

Model: Smart-IR-ZF

Measuring temperature: 0 ℃ ~ 400 ℃

Measurement wavelength: 8 ~ 14 um

Distance: Diameter: 12: 1

(ψ30mm at 360mm)

Emissivity: 0.95 (fixed)

Signal output: 4 ~ 20 mA

Response time: 300 msec

Power supply: DC 24 V

Dimensions: L = 91mmxФ = 22mm

Weight: 158g

V053954.B01

Cable box VKK 28014

<< Customer INQ >>

-Cable box VKK28014

V094838.B03

Load Cell DWB 100T with 15m cable and

connecting plug

<< Customer INQ >>

-Loadcell type DWB 100T

Model: BV-D2041GB

VBBC3 0,05t

Emax = 0,05t, Emin = 0kg

Elim = 0,075t

Vmin = 0,009℅ Cn = 2mVN

30658102

(VBB 0.05t C3 nominal load 50kg According to data sheet BV-D2041GB)

MEMORY MODULE VSM 20107 V044393.B05

PROFIBUS CARD VPB 20100, V034917.B01

TERMINAL BOX: FAK 0080-E22, FAK 0080-E22

TERMINAL BOX: FAK 0080-2GD new 2011

CONTROL UNIT VLB 20120 -E22, V035374.B01

MEMORY MODULE VSM 20102 V044393.B03, OK11N2

TERMINAL BOX: FAK 0080-E22, FAK 0080-E22

LOAD CELL

VBBC3-0,1-2MV/V

Weight: 1 kg/pc

LOAD CELL – 3360-117-CAP 300KGF

TYPE : PSW-17237

OUTPUT : 2MMV/V AT 300KGF

Weight: 1kg/pc

Model: HM30

LOAD CELL – 3360-117-CAP 300KGF

TYPE : PWS-17237

OUTPUT : 2MMV/V AT 300KGF

Weight: 1kg/pc

Intecont plus for measuring systems

Model: VPB020V

Variant: VEG20612

Weighing Systems

Model: VLG 20100 F217920.02

Modul I/O

Model: VEA 20100 F217904.02

V053954.B01

Cable box VKK 28014

D724784.02

Load Cell

RTN 100t C3

D724754.02

RTN 33t C3

Load Cell with connecting cable 15m

VC 1100 C11

DWB 100T

V 053 954.B01

VEG 20450 terminal

VME 21046/PT 100

veg20610/vdb20600

VC-1100-C01

SF4-20 kN-C3

VKK 28014

VEG20700

CV-110

FGA 20 RSLE

TYPE: DEM1845 S9& No FDS 7253

PWS-17238

RTN 0,05/220T

SF4/C3 20kN

CV-110

VS-068

V053954.B01

Cable box VKK 28014

D724784.02

Load Cell

RTN 100t C3

D724754.02

RTN 33t C3

Load Cell with connecting cable 15m
Trực tuyến:

9

Hôm nay:

2273

Tuần này:

7094

Tuần trước:

18060

Tháng trước:

22242

Tất cả:

1978523